Hong Kong Tower
Hong Kong Tower
Hong Kong Tower Slot is a creative, modern online slot game set in the skyline of the energetic and vibrant city of Hong Kong. This exciting game is fun and easy to play and allows players to take a dive into the Hong Kong nightlife, all while in the comfort of their own home.
The game's visuals are wonderfully appealing with gripping music as players enter the game, and well stylized symbols that perfectly reflect the East Asian feel of the game such as bonsai trees and lotus flowers.
Hong Kong Tower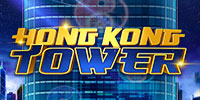 Hong Kong Tower Slot Review - All you need to know!
Provider: NYX
Game Type: Slot Game
Payout: 96.3%
Available on Mobile: ✔︎
Available on Desktop: ✔︎
UK Compliant: ✔︎
How do you play Hong Kong Tower Slot
Hong Kong Tower Slot is a 5 reel 3 row slot game with 99 paylines giving players plenty of different ways to win. In order to spin the reel simply click the arrow on the right of the screen.
On the bottom left of the screen is a grey coin logo allowing players to increase or decrease the amount they wish to stake - the maximum amount being 100 and minimum 0.20. This range of betting ensures the game is suitable for beginners, who don't wish to take their chances and wager for small stakes, and for more experienced players who wish to play for larger cash payouts.
There are multiple symbols that each represent different amounts of winnings. 5 of the symbols in this game represent the earth's 5 elements which are earth, wind, fire, water and air. These 5 are lower scoring symbols, however you can still win big, with 5 of these amounting to 80 times your stakes.
The other symbols are a bonsai tree, a big 7, lotus flower and a diamond. The seven is the highest scoring with 5 of these in your reel amounting to 1500 times the stakes. Look out for these if you're aiming to win big!
The jackpot for Honk Kong Tower Slot is a whopping 301,650 and has a high volatility with an RTP of 96.30%.
What are the Bonus features for Hong Kong Tower Slot?
Hong Kong Tower Slot has a couple of bonus features, the first of which is activated when three of the bonus symbols appear on your payline. When this occurs, players qualify for the Wheels of Sky bonus game where you are invited to spin the wheels to win further big prizes!
If you get lucky and see 3 yin yang symbols on your screen, players will be taken to a Hong Kong style bonus game where a wheel is spun to win cash rewards. This unique game mode temporarily pulls players away from the normal game mode adding excitement and the opportunity to keep playing for awesome prizes.
Background features
Elk studios created Hong Kong Tower Slot with slick and aluminous animations styled perfectly to capture the Hong Kong night skyline. The high quality blue themed animations engage players instantly and allow you to escape and feel as if you are sitting on the rooftop of a skyscraper.
The background of the game overlooks the city and the sound features background noises similar to those you would expect to hear walking the streets of a fast paced metropolis.
The animations of the reel spins are smooth and crisp with no delay giving players a high quality gaming experience.
As a result, the design and theme of this game make it a popular choice with our online casino portfolio.
FAQs
Can I play on my mobile?
Yes the game is available on mobile device as well as desktop and tablet.
Who developed Hong Kong Tower Slot?
The game was developed by Swedish company Elk studios.
What is the maximum winnings possible?
You can win up to 1500x your stake if you get 5 of the big sevens. With the maximum stakes being 100, the maximum winnings are 150,000.