Fruit Blast
Fruit Blast
Fruit Blast is a colourful and enjoyable offering from Skillzz Gaming which provides a neat twist on the traditional slot. Sink your teeth into this fun and fruity game and see whether you taste the sweet flavour of success.
Fruit Blast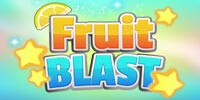 Come down to the beach bar and take a bite from this juicy slot
Provider: Microgaming
Game Type: Slot Game
Payout: 94.90%
Available on Mobile: ✔︎
Available on Desktop: ✔︎
UK Compliant: ✔︎
Why You Should Play Fruit Blast
Fruit Blast stands out from the crowd of slot games because it is played a little bit differently. Taking place in a beach bar setting, the game includes a five-by-five grid of symbols the same as the majority of slots, but instead of spinning the reels you have to select matching clusters of symbols to keep progressing through the different levels. The fact that it requires a little bit of logic will certainly appeal to many players, but don't worry if mindless entertainment is more your cup of tea because you will be given a helping hand if needed. The graphics are amusing and vibrant, and there are an assortment of glamorous bartenders waiting to serve drinks as you go through the game.
How to Play
Just press play to start the game, then hit 'Set Bet' to choose the size of your wager. You can go for a minimum of £0.80, up to a maximum of £100. The aim of the game is to pick out clusters of at least three matching fruit symbols – including cherries, lemons, grapes, pineapples and watermelons. The symbols must be adjacent to count, and when you tap on a valid cluster they will all explode and fill up the relevant meter on the left-hand side of the screen.
The fruits are worth different values, so if there are several options at any one time it is up to you to pick out which one you think is best. Clusters will start to pulse if you can't find any, and a message will be displayed when there are 'no more moves' left to find. You can tap on the settings icon to learn more about the game or see your achievements, and as you play the idea is to 'level up'. This gives you access to new bartenders and triggers various extra features.
Features
Level 1 – No extra features
Level 2 – Hawaiian Shake gives away an instant win of up to 8x the stake
Level 5 – Five free games, each with a guaranteed win
Level 9 – Play a picking game to win a cash prize
Level 12 – Another picking game to win cash prizes
Level 15 – A fruit meter will be filled
Level 19 – One free game will be awarded, plus a 10x multiplier
Level 22 – A cash prize will be awarded, which could be doubled up
Level 25 – Play a picking game to win cash prizes and multipliers
Jackpot
If you land a cluster of least three jackpot symbols, you will be awarded 1000x your total bet.